Me in Santa Monica at Will Rogers State Park. Copyright Paige LaCombe Photography
Paige and I spent yesterday together, and we went to visit our friend Dana who lives in Topanga Canyon. First though we stopped by Intelligentsia, a coffee shop on Sunset Blvd. A random person took this one with my cell phone.

Next to Intelligentsia there is this graffiti mural wall that says I never hated anyone. We loved it.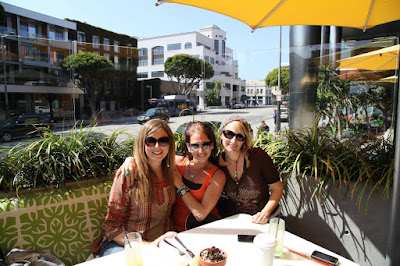 Next we stopped at a great foodie restaurant - True Food Restaurant - in Santa Monica where we met up with Dana! It was a beautiful day and we sat outside on the patio and took photos and Dana and I exchanged our respective turquoise necklaces because it was Monday, the "day of giving and receiving" according to the 7 Laws of Success by Deepak Choptra!
This is a self-portrait of me and Paige at the beach in Santa Monica using Paige's awesome new Canon Mark 2! She is starting a photography business and is really excited about it! (Copyright (c) 2011 Paige LaCombe)
This is a phone photo I took of the beach. We just sat and listened to the waves for a while. I meditated both with my eyes closed, and open watching the sparkles of the afternoon sun dance on the indigo waves. I had the most peaceful feeling that things were exactly right in the universe at this moment in time.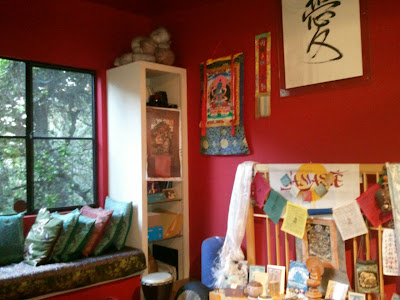 Next we went to Dana and Ron's house in Topanga Canyon for dinner. I love the meditation room Dana designed there - isn't it cool?

Dana's 13-year old daughter Rachel Riley played guitar and sang for us - wow! She is an incredibly talented young lady! Check out her Youtube channel - it even has original songs. I would say I thought it was even more powerful in person though! Dana made us an amazingly delish dinner, and we played "20 questions" and it was a lot of fun. Then we headed back home (to Eagle Rock)

Renata, Paige, Kim and me hanging out at Paige & Renata's place!